Sri Lanka needs to have an effective food management strategy to deal with the current crisis situation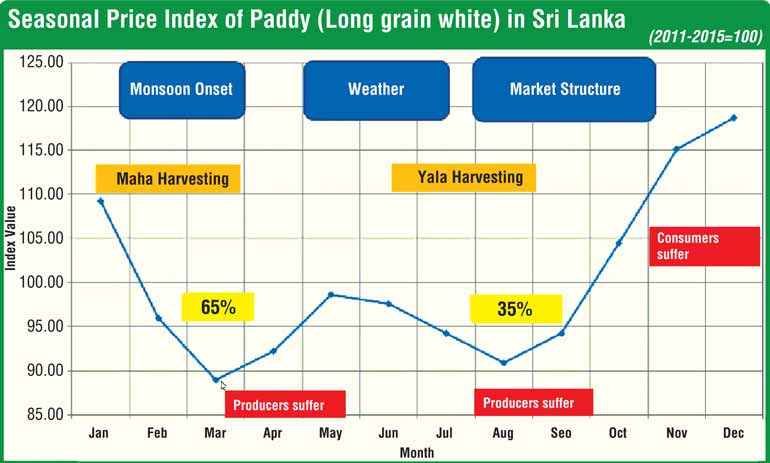 ---
The following article is based on the presentation at the Monthly Seminar of January 2022 of the Sri Lankan Economic Association (SLEA), which was held on 29 January via online platform. Dr. E.A.C. Priyankara, a senior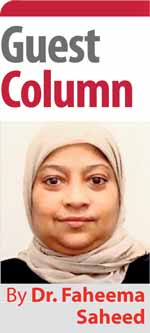 research officer at Hector Kobbekaduwa Agrarian Research Institute made the presentation on "Current Food Inflation in Sri Lanka: Causes and Consequences" and the discussant was Dr. Priyanga Dunusinghe, Senior Lecturer in Economics at the University of Colombo.

Rising food prices have been a global phenomenon in the recent past. In the globalised world food prices have become an important determinant factor of domestic inflation. Food inflation has been in the spotlight recently in the wake of food price hikes on a global scale. Sri Lanka has recorded the highest increase in the food inflation index at a rate of 22.1% in December 2021 which stood at 17.5% in November 2021. It was 25% in January 2022 causing alarm among the consumers in the country.

Sri Lanka as well as many other countries calculate food inflation as a part of overall inflation. The contribution to the overall inflation by food in Sri Lanka stands out at a rate of 7% in December 2021. Also, Sri Lanka is ranked 4th place in terms of food inflation in Asia and 12th place in the world. High and persistent food inflation has emerged as a major concern of the Sri Lankan economy.

The current surge in global food prices can be attributed to several reasons such as the recent cost for the vaccine administration which has a consequence of rising inflation. Though COVID contributed to plummeting prices through supply chain disruptions, Sri Lanka experienced the food price hike even before the pandemic situation.

High food inflation has negative consequences for people living below the poverty line as well as the middle-income group with a fixed source of income. Food inflation is outpacing the income levels of the households, exacerbating income disparities. Soaring food prices hit the consumers and it is highly regressive on the poor. Poverty and dominance of food in the consumption basket is more pronounced as the poor have to spend a relatively higher share of their disposable income on food. Food price dynamics have a noticeable influence in the economic stability and wellbeing as high poverty and malnutrition directly affects the welfare of households. Even non-food expenditure such as education, housing, health is compromised at the cost of food which in turn creates socio-economic pressure.

Sri Lanka's food market consists of two sources: domestic supply and imports. Food inflation is partly due to supply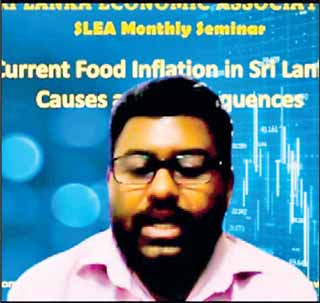 Dr. E.A.C. Priyankara
side disruptions locally and globally. A major component of the inflation is driven by supply side factors and supply shocks which carry over the effect of low growth in food production. A rise in global commodity prices drastically affects Sri Lanka's dependency on imports. Import curbs, currency depreciation and dollar shortage too are driving the prices high. The cash strapped country is grappling with a shortage of essentials due to the lack of dollars to finance imports and to shore up the foreign exchange reserves.

Sri Lanka is a net food and fuel importing country. The exchange rate has a positive impact on the prices of food imports and import of intermediate inputs. Rising oil prices, international food prices and high transport costs also inflated the domestic food prices as external factors.

Global factors alone cannot explain Sri Lankan food inflation. Internal factors such as shortfall of agricultural production, labour shortages, increase in production costs, cyclical factors like natural calamities, monsoon onset, food demand, disruption of distribution, government policies are some of the cost push effects of food prices.

Money supply has a significant positive relationship with food inflation in the long run. Demand-pull effects from rapid monetary expansion with lower interest rates and money printing in the economy impacted the food inflation in the recent past, as a lagged effect of the loose monetary policy.

Food inflation is partly due to supply side disruptions locally and globally. A major component of the inflation is driven by supply side factors and supply shocks which is a carry-over effect of disruption in food production.

The market structure is also a factor which contributed to the recent food inflation as traders speculate decisions due to uncertainty in the continued supply of imports. Import restriction on essential consumer goods due to dollar shortages added up to the rise in the food crisis. Recently hoarding by producers and traders impacted on price increase as speculation creates artificial shortages and domestic supply shortfall. Since there are no substitutes, prices keep increasing. Recent agricultural policy shifts too had an impact on the food crisis. Production disruptions and food shortage was accelerated by government's ban on agro-chemicals, while switching to organic fertiliser in a short period.

The food inflation issue deserves immediate attention and decisive actions. Sri Lanka needs to have an effective food management strategy to deal with the current crisis situation. Cascading effects of the negative impact may otherwise lead to labour unrest and long-term socio-economic issues as well.

Effective stabilisation policies are imperative. Sri Lanka has to resolve external sector issues and explore options to stabilise the rupee value. Though some countries are trying to increase policy rates to arrest inflation it should not affect the growth rates. The government should anchor fiscal plans directed towards growth objectives and sustainability. Enhancing investments by creating confidence can help in averting the food crisis.

Targeted intervention should be prioritised over price controls. Targeting vulnerable groups and accelerating short to medium term policy solutions should be implemented by the government to address this problem. Short-term measures to encourage people to tap some of the unconventional avenues, to earn foreign exchange, start development projects by tapping the global market, infrastructure development, promote domestic production, provide selective extra incentives to growers, identify special zones for off season cultivation and food storage and preservation strategies, ensure availability of farm inputs, rationally fine tune import duties, encourage substitutes for imported items are some of the areas to be focused. Structural issues for food price hikes too should be identified and addressed.
(The writer is the Chairman of the Business Promotion and Marketing Committee of the Sri Lankan Economic Association.)